Petroleum trading
    In Long Thanh Industrial Park, Sonadezi Long Thanh has invested and put into operation a petrol station to supply customers inside and outside the industrial zone. This is Sonadezi Long Thanh's first petrol station and also the starting project for a chain of utility services that Sonadezi Long Thanh has been developing to expand its scope and improve customer service capacity.
Sonadezi Long Thanh petrol station was built on an area of 11,639 m2, belonging to the Management and Service Area at Gate 1 of Long Thanh Industrial Park. The store is located in a strategic location, is the gateway to the entrance of Long Thanh Industrial Park and the connection point between Long Thanh Industrial Park and route 319 to enter the Long Thanh – Dau Giay Expressway, and directly connect with neighboring residential areas such as Green Valley Residential Area, Existing Residential Area along National Highway 51… and adjacent to Long Thanh Trade and Service Center, National Highway 51.
With a convenient location in connection and trade, Sonadezi Long Thanh Petroleum Store is serving a wide range of customers, including investors in Long Thanh Industrial Park, customers in Tam An residential area and other customers. Other residential areas, organizations, businesses, people inside and outside Dong Nai province… At the same time, Sonadezi Long Thanh petrol station will integrate utilities such as: service house (mini supermarket, fast food). , storage) and a number of adjacent buildings, trees, parking garages, toilets… in order to best serve customers.
Sonadezi Long Thanh petrol station currently has 06 pumping stations with a capacity of 100 m3. The store is operated professionally, increasingly bringing high efficiency, contributing to the adequate and timely supply of petroleum to serve socio-economic development, national security and the people's consumption needs .
Contact Info:
– Address: Road No. 1, Long Thanh Industrial Park, Tam An Commune, Long Thanh District, Dong Nai Province.
– Phone: 02513.514.494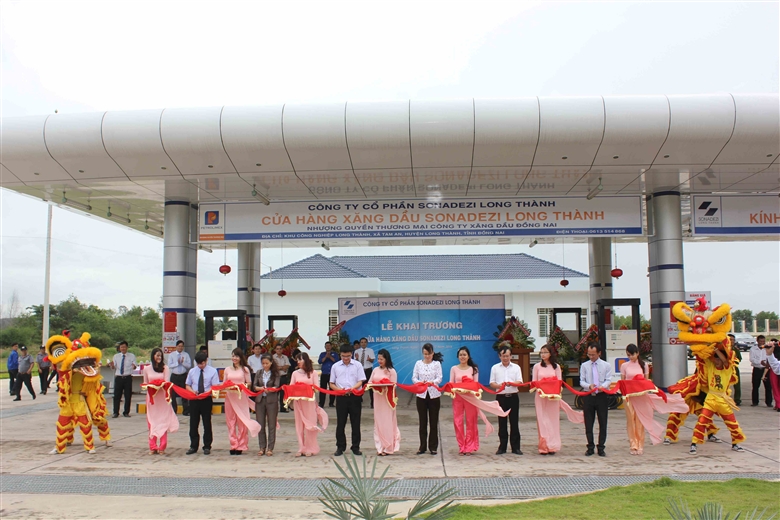 Maybe you are interested